Actually, to this "transplanted" (unintended double meaning) Michigander, the calendar declared "Fall" long before the thermometer here in North Carolina! But even with days in the upper 90's much later than what I'm used to, I have been busy.
The month of September began with our "Next Breath" support group sponsoring a walk to raise funds and awareness for the Pulmonary Fibrosis Foundation of Chicago. Our group picture is above. It was a wonderful day and special event!  We raised over $9000 and a lot of great awareness that we can build on for next year!
Both this month and next I have the opportunity to speak to several groups of adults and share my story of hope in the midst of tragedy. I have also discovered new friends who are struggling with tragedies of their own. We have a refreshing time of sharing stories of appreciation for the little things of life.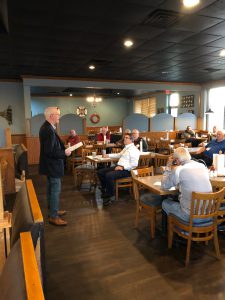 There is the continued sharpening and shaping of my life through both joy and pain. They regularly mix together and teach me new lessons in "struggling well." No matter what is the current month on the calendar, or even the current weather pattern, may today find you busy encouraging and loving others with the strength that God gives!